THAT MOMENT BETWEEN THE TREES
If Ellen Can Be Friends With George Why Can't We Be A Little Kinder
So you pray to nothing about something and nothing happens.
What did you just prove?
That nothing exists!
I pray to God the Father in the name of His Son Jesus about something and something happens.
What did I just prove?
You're not sure.
Your experience proves there is no divine being or benevolent entity.
Yet, my experience is uncertain at best or does not prove the existence of anyone or anything beyond the natural realm.
I have no problem tolerating or even accepting your experience.
My experience is quite different.
Can I, at least, be allowed to have my experience and interpret it how I choose?
Do I have freedom of choice?
I'm not asking you to accept my experience.
I'm not asking you to embrace any idea or any one or thing.
I accept your freedom of choice.
If you don't want to know why I choose to believe, based on my personal experiences, you have the freedom to stop reading. Just realize if you do choose to stop reading you will miss some very interesting information about William Blake, the artist responsible for The Ancient of Days pictured above.
Whether you are still with me or not, I'm going to explain my choices and my interpretations of mylife's experiences.
My mother took me to a small, country church when I was only three weeks old and I never missed a Sunday morning, night service or Wednesday night prayer meeting after that. Of course, I had no choice for at least the first ten or twelve years.
But, sitting in church three times a week did not make me a Christian any more than sitting in my garage would make me a car. And, I had friends who regularly sat in those pews every week for years, who later just walked away and never came back. Why didn't I?
That Moment Between the Trees
Two weeks before my seventh birthday I was running in the grassy field between my grandfather's house and my uncle's. I stopped between two trees, looked up at the clouds backlit by the afternoon sun, and had an epiphany.
I didn't see anything in the clouds. No mystical shapes came into sight.
I didn't hear a voice. Not a sound.
I just knew, at six years and fifty weeks, that God was real.
I didn't fall to my knees.
I didn't shout, "Hallelujah!"
I didn't even have an intense emotional experience.
I just knew.
Then I ran on to see my cousins at my Uncle J.B.'s house.
A few hours later we returned to that small, country church for the evening service. At the end of the time, as he always did, Pastor Olin Riley gave an invitation for anyone to come forward and accept Jesus. To his utter surprise, and probably everyone else's, I stepped out and walked to the front of the church. I was officially born again and welcomed into the church.
Two weeks later, having reached my seventh birthday, I was baptized by total immersion along with two of my friends.
Then, life continued as usual.
That may have ended my religious experience and I may have walked away later had I not added experience after experience to that moment between the trees.
Let me note that people are unique and frequently assign radically different interpretations to identical experiences.
Recently I was listening to Gay Hendricks' book, The Big Leap, when he talked about his own encounter with God.
"I had a personal experience early in my life that left an enduring impression on me. It was the first spiritual experience I can really remember clearly and it happened when I was five years old the summer before I was in elementary school. I was playing by myself in the side yard on a hot summer day in Florida. I had just come home from spending a morning in a children's program at my family's church. The program featured stories of Jesus, art projects involving Jesus and songs of the Jesus loves me variety. There was a great emphasis on Jesus' role as the son of God. As I was playing outside I was thinking about the son of God part of the story. What did this mean exactly? I'd never known a living father because he had died during my mother's pregnancy with me. So I didn't have any felt sense of what it might feel like to actually have a father. Suddenly I found myself wondering if I too was a son of God. It seemed if Jesus could be a son of God maybe I could be one, too. This thought sent a thrill through me. A wave of exhilarating feeling I can remember as vividly as if it happened a minute ago. I looked up through the branches of the trees at the blue sky shimmering in the tropical air. Is that where my father lives, I wondered? Is that where I came from? Then a special kind of awareness settled into me."
The Big Leap, by Gay Hendricks, Appendix: Baby Steps and Big Leaps, My Early Adventures As an Entrepreneur
Even though Gay's experience and my own are so strikingly similar and we both have very vivid memories of them over sixty years later, our interpretations and eventual conclusions have not been the same. While my interpretations, conclusions and additional experiences have further confirmed my belief in the God of my youth, Gay's have lead him to a more universalist view of all things spiritual. This is evidenced by the guiding principles of the Hendrick's Institute.
Although I do not embrace his whole world view, I accept that these are his and he has a right to them. The point of this article is to ask that I might have the same freedom to my world view.
Too often we have afforded such freedom to people only posthumously. William Blake (1757-1827) is now considered "a seminal figure in the history of the poetry and visual arts of the Romantic Age. What he called his prophetic works were said by 20th-century critic Northrop Frye to form 'what is in proportion to its merits the least read body of poetry in the English language.' His visual artistry led 21st-century critic Jonathan Jones to proclaim him 'far and away the greatest artist Britain has ever produced.' In 2002, Blake was placed at number 38 in the BBC's poll of the 100 Greatest Britons."
Yet, during his lifetime Blake was not only largely unrecognized but was brutally assailed as an eccentric madman. One critic suggested Blake's eccentricities far exceeded his abilities. Writing about an exhibit of Blake's work one reviewer called it a display of "nonsense, unintelligibleness and egregious vanity," and referred to Blake as "an unfortunate lunatic."
To say that his contemporaries were intolerant of his poetry and art would be an understatement. Part of this intolerance stems from Blakes mystical experiences and his interpretations of those events.
At an early age, Blake began experiencing visions, and his friend and journalist Henry Crabb Robinson wrote that Blake saw God's head appear in a window when Blake was 4 years old. He also allegedly saw the prophet Ezekiel under a tree and had a vision of "a tree filled with angels." Blake's visions would have a lasting effect on the art and writings that he produced.
When his younger brother died, Blake said he saw his brother's spirit ascend to heaven clapping joyfully as he flew upward.
Blake's favorite design, which he reproduced numerous times as both watercolors and illuminated etchings, was The Ancient of Days. The title is based on a verse in Daniel. "I saw in the night visions, and, behold, one like the Son of man camewith the clouds of heaven, and came to the Ancient of days, and they brought him near before him."
The Ancient of Days, God, holds a compass in his hand as he brings order to chaos in creating the earth. This is based on Proverbs 8:27
"When he prepared the heavens, I was there: when he set a compass upon the face of the depth:"
The image has been used by everyone from Stephen Hawking to the funk band Slave for a soul version album cover of their third album, The Concept.
It is interesting that the cover for Hawking's book, God Created the Integers, printed in Great Britain by Penguin Books used Blake's painting but the U.S. edition changed the cover to a totally non-religious, innocuous design.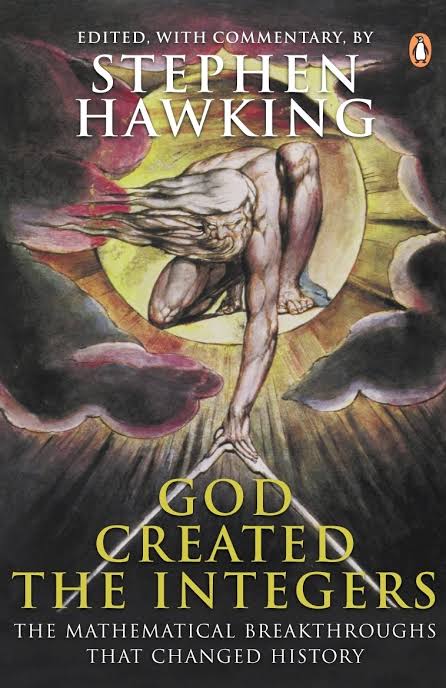 What gives? Americans couldn't handle a classic image of God? Is Blake still being ignored or too controversial for modern sensitivities?
Let's give Blake, and each other, a break. We are all different. We have similar, but still, unique experiences. Freedom of choice allows freedom of interpretation.
When Ellen DeGeneres was harshly criticized for sitting beside former President George Bush at a Dallas Cowboy's football game she responded by saying, ""I'm friends with George Bush. In fact, I'm friends with a lot of people who don't share the same beliefs that I have. We're all different, and I think that we've forgotten that that's okay that we're all different. Just because I don't agree with someone on everything doesn't mean that I'm not going to be friends with them. When I say be kind to one another, I don't only mean the people that think the same way that you do. I mean be kind to everyone."
If Ellen can be friends with George, can't we at least show a little kindness to those who are different and may interpret their experiences differently?